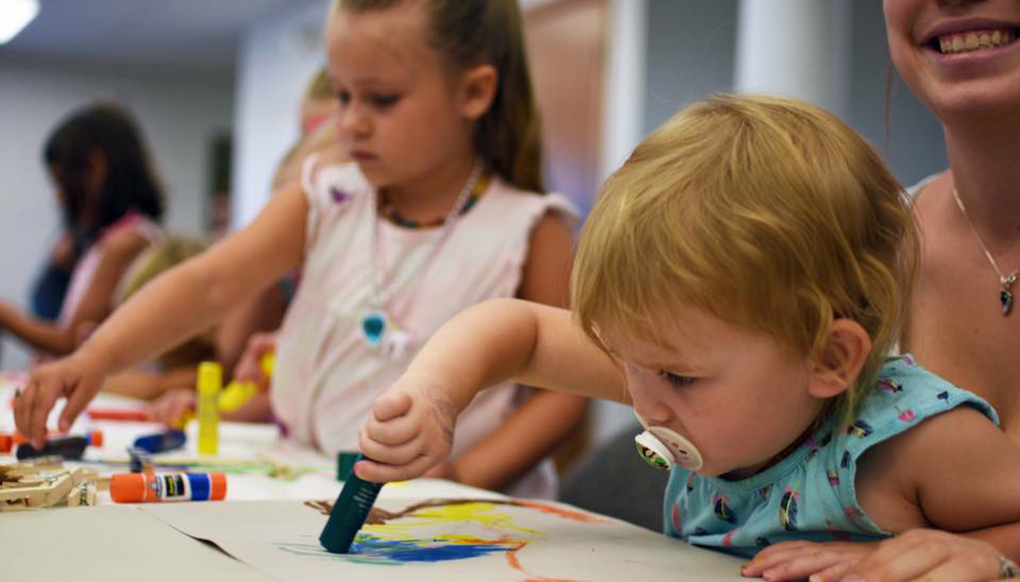 Upcoming Events
The first five years of an infant's life is a wondrous journey of discovery and development. About 90 percent of brain growth happens before a child enters kindergarten. At the Clearview Library District, we help with this development and look to foster a love of reading and learning that will last a lifetime.
As caregivers, sometimes we worry that we are not doing enough for our children's growth and learning, but five very simple practices can lead to success in early literacy: reading, writing, talking, singing, and playing. At the library we promote these skills in our storytimes and other programs for little ones ages 0-5 and their caregivers — and we have fun while doing it!
Storytimes and Library Programs
We host multiple storytimes each week, both virtually and in person. Our storytimes are based on the five practices of Every Child Ready to Read: reading, writing, talking, singing, and playing. Our storytimes are active, in order to build both fine and gross motor movement, and include lots of singing and dancing. We even offer yoga storytimes for more mindful movements.
In addition to storytimes, we offer book clubs for both preschool-age children and families that include a copy of the book and supplemental activities. We also offer once monthly STEAM (science, technology, engineering, art, and math) events for our youngest patrons. Children explore insects, block building, fairy tales, obstacle courses, and more to develop young minds and bodies.
1000 Books Before Kindergarten
The best way to prepare your children for school is to fill their world with reading. 1000 Books Before Kindergarten is a national foundation and public charity that promotes reading to newborns, infants, and toddlers. The goal of this program is to read 1,000 books before the child reaches kindergarten. This may sound like a daunting task, but fear not! If you read even just one book per day, you've already read 365 per year, and we all know, we don't get away with reading only one book at bedtime!
Our 1000 Books Before Kindergarten program is broken down into 10 achievable levels of 100 books each. To sign up, join online or stop into the library to receive a bookmark with 100 icons. Every time you read a book, cross off one of the icons. When the level is complete, stop into the library to receive a small prize. Once all 10 levels have been completed, winners will be invited to a party.
StoryWalk
StoryWalk® combines early literacy and the great outdoors, with pages from a children's book installed along an outdoor path. As you progress down the path, readers will explore a new page of the book. We have two StoryWalk locations in the Clearview Library District:
Eastman Park Pond, Windsor, and Lakeview Park, Severance. The stories rotate every other month and are celebrated with a special StoryWalk Storytime program. Watch our Events page for details.
Engaging Materials
To help our earliest readers on their path to literacy, we have great resources for all levels, from pre-readers to those ready for school.
Dolly Parton's Imagination Library is now available in Weld County! 
Dolly Parton's Imagination Library puts books into the hands and hearts of children across the world. Imagination Library partners with local communities to provide a hand-selected, age-appropriate, high-quality book each month to registered children from birth to age five. 
If you have a child from 0-5 years old, register them today for free monthly books! 
How it works: 
Enroll your child online. (Register each child in your household separately).
In 6-8 weeks, your child will receive their first book in the mail, The Little Engine That Could. 
Books arrive in the mail monthly until your child's 5th birthday.
E-books, e-Audiobooks, and Videos
We offer many format options for parents of young children, including digital content. E-books and e-audiobooks can be viewed through apps Hoopla, Libby, and Tumblebooks with your library card. Kanopy Kids also has a storytime collection of narrated picture books, in addition to educational content from Sesame Street, Highlights, PBS Kids, Muzzy, and more.
We have materials for all age levels, including board books, which are made of cardboard and can withstand the rough touches (and teeth or gums!) of the youngest of children and picture books where the illustrations drive much of the story. Our collection also includes early, or easy, readers, which are broken down into five levels that are rated based on the size of the font, the difficulty of the words, and the length of the story. And, last, but not least, we have kits with picture books and read-along CDs for children to develop reading comprehension and word recognition.
These kits contain everything you need to conduct your own storytime at home, including three picture books, an adult resource for more activities, a list of rhymes and fingerplays, a music CD, a DVD, and a toy or activity of some sort that supports the theme of the bag. Themes of these bags range from seasons to Spanish to food and more!