The Pioneer Woman Cooks: Super Easy! by Ree Drummond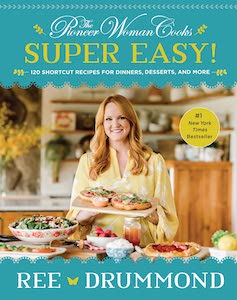 This cookbook wowed us with: Simplification! Simplified Processes, Simpler Cooking, & Simple Substitutes!
Shortcut cooking may not be for everyone or every day, but there is a time and a place for everything. So whether you are on vacation, hosting a Super Bowl or Oscar viewing party, or have a large crowd of friends to feed, Ree Drummond's latest cookbook, The Pioneer Woman Cooks - Super Easy!, will be your best friend in the kitchen. 
Aren't we all looking for easy and tasty recipes that make cooking and entertaining a breeze? Well, look no further than this time-saving, super-fun cookbook. Change your cooking lifestyle and spend more time interacting with guests and friends or relaxing at the beach. This cookbook features 120+ versatile and easy recipes, making shortcut cooking the key to kitchen success. You won't find a single recipe, ingredient, or process that is too complex or challenging to follow. Each recipe includes a pictorial guide showing all the steps and the final product, making it helpful for beginners.
What We're Trying: Buffalo Chicken "TOT-chos" (Like Nachos but made with Tater Tots) 
This recipe immediately caught our eye after flipping through the book for the first time. Tater Tots loaded with all the fixings for Buffalo Chicken Nachos? Yes, please. 
Food for all: this recipe makes a large portion suitable for game day, potlucks, or feeding a hungry group of teens. 
Ahead of schedule: once assembled, you finish it under the broiler and can serve it from the same pan, making it a convenient option to take to an event since you can prepare everything in advance!
Mix up your fixings: top the tots with chili and cheese, traditional taco meat and cheese, or try pizza tot-chos by topping the tots with marinara, mozzarella, and pepperoni. Go crazy!
Meet the Author
Author Ree Drummond has seven #1 New York Times bestselling cookbooks in the Pioneer Woman Cooks series and many bestselling children's books. Her award-winning website showcases her cooking, photography, and stories about country life. Sign up for her newsletter to get recipes, home design ideas, and news. She also has a top-rated cooking show, magazine, and a well-loved kitchen and home product line. Ree lives on a working ranch in Pawhuska, Oklahoma.