The Cookbook Nook: Prep + Rally: an hour of prep, a week of delicious meals.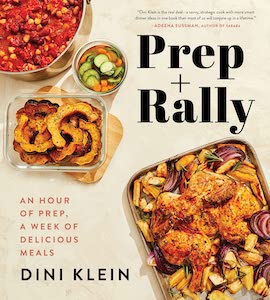 This cookbook wowed us with: 1 Prep Day = 4 Unique Family Meals 
Dini Klein's Prep + Rally cookbook has a unique layout and meal-planning structure perfect for busy parents and working families. It's so easy. You shop for the week, prepping staple recipes only takes an hour, then you have everything you need to assemble four meals for the upcoming week. Each recipe serves four people, so you might need to adjust the quantities according to the size of your family. Ideal for busy parents and working families
We love the organization of this cookbook. Dini provides you with the week's menu, a grocery shopping list, ingredient swaps to make the recipes more kid-friendly, gluten-free or vegetarian recipe modifications, and meal assembly instructions. Shop-Prep-Rally!
What We're Trying: Smashed Tomato Fusilli
This meal can be on the table lickety-split. It is also economical. Just serve with a side salad and some crusty bread.
Tomato sauce made from cherry tomatoes is fast, sweet and delicious.
We are sneaking in some greens with the addition of spinach.
When it comes to a pasta substitute, you can use Gluten-free pasta or saute some zucchini noodles to serve with the smashed tomato sauce!
Meet the Author
Dini Klein is a food host, recipe developer, former private chef, and founder of the Prep + Rally family meal-prep service. She is on a mission to help every busy family enjoy more and stress less with her Prep + Rally system featured here in her first cookbook. Dini lives in Los Angeles, California. Visit her Prep + Rally website for "Rally Resources" and other helpful information.