The Cookbook Nook: The Pasta Queen: A Just Gorgeous Cookbook by Nadia Caterina Munno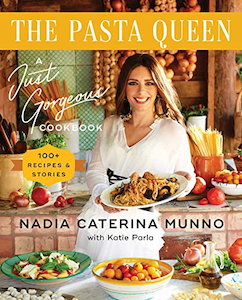 This cookbook wowed us with: Stunning photography from Italy and generations of pasta knowledge captured in drool-worthy recipes.
If you are a pasta lover, (and who doesn't love pasta?) or if you want to find your inner Italian, then this is the cookbook for you. The Pasta Queen: A Just Gorgeous Cookbook (no exaggeration) is more than a compilation of recipes. This cookbook is visually stunning with an insight into Italy's culture and lifestyle. It includes a history of pasta, helpful cooking tips, detailed directions to make homemade pasta, and over 100 delicious recipes. Many of her recipes include a QR code that links to a video of her preparing the recipe so you can cook together. Nadia is fun, engaging, and full of positive energy, encouraging us to get into our kitchens and cook gorgeous Italian food.
What We're Trying: Lemon Ricotta Delight 
We wanted to make every single recipe in the book but started with this one since we had everything on hand and could jump right into cooking. We couldn't wait to dive in!
Lightening fast: this recipe is fast and fresh with a dreamy, creamy, no-cook sauce. 
Pasta possibilities: it has an option of four different pasta shapes, so you can choose your favorite.
All seasons: although we made this recipe in March, it would be wonderful in the summer when fresh basil and lemons are at their prime.
Meet the Author
Nadia Caterina Munno is the Pasta Queen. Born in Italy, her ancestors were dried pasta makers dating back to the 1880s. Known for her humorous narrated videos from her gorgeous kitchen with her brother, Agostino, Nadia's online presence has exploded, amassing millions of followers on social media. Her website includes recipes, logo merchandise, and cookery for purchase. This is her first cookbook, and it's a stunner. Born in Rome, Nadia currently lives in Florida.