The Cookbook Nook: Mi Cocina: Recipes and Rapture from My Kitchen in Mexico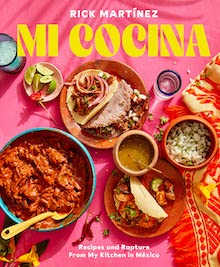 This cookbook wowed us with: Bold, flavorful dishes and intimate insights into Mexican and Mexican-American culture.
Why This Book
If you're looking to add a little—or a lot!—of spice to your kitchen this summer, then Rick Martinez's Mi Cocina is the perfect cookbook for you. It is filled with vibrant, colorful photos depicting 100+ unique recipes for salsas, soups, entrees, and sides, as well as snapshots of life and culture across various regions of Mexico. It isn't your typical cookbook. With the author's personal notes printed in colored ink on the sides of the pages, Mi Cocina is as much a memoir and a travelog as it is a guide to making some great-tasting Mexican cuisine.
What We're Trying: Esquites - spicy, sweet, and savory!
This dish reminds us of hot, fresh-buttered street corn but with a kick! Plus, you can eat it with a fork instead of your hands, so no worries about messy juices dripping down your fingers.
Quick & simple – This recipe is quite easy to make; just chop up the few ingredients involved and then cook them in a skillet. You can probably whip this up in about 20 minutes. 
Versatile - It's also relatively adjustable; Martinez even encourages it! If you have a sensitive tongue, feel free to reduce the number of peppers involved or use substitutes. Add other ingredients like meat, tomatoes, and limes to make this recipe your own!
Delicious all around - This dish works great as a side, an entrée, or even an extra on your salads and tacos. You'll love the tasty swirl of spicy, salty, and sweet.
Meet the Author 
Rick Martínez is a chef and food writer whose recipes appear regularly in the New York Times. He also teaches live, weekly classes for the Food Network Kitchen show, co-hosts a cooking podcast called Borderline Salty, and produces online videos for the YouTube channel Food52 and Pruebalo on the Babish Culinary Universe channel. Martinez resides in Mazatlán with his dog, Choco, where he cooks, eats, and enjoys the Mexican Pacific coast. Mi Cocina: Recipes and Rapture from My Kitchen in Mexico is his debut book. You can find it and recordings of his videos and podcasts on his website: rick-martinez.com.