The Cookbook Nook: The Korean Vegan Cookbook by Joanne Lee Molinaro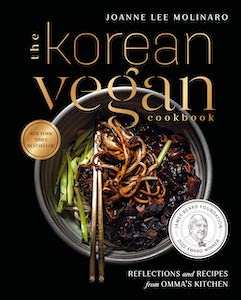 This cookbook wowed us with: Its Profound Connection Between Food & Family.
Joanne Lee Molinaro hit a home run with her debut cookbook, The Korean Vegan. It dominated best-seller lists and, in 2022, earned a James Beard Foundation Award, which recognizes exceptional talent and achievement in the culinary arts and other industries. 
This cookbook is very personal, highlighting Joanne's family history in a collection of her favorite Korean dishes, some traditional and some reimagined. All 80+ recipes are plant-based, with stunning photography, and include the Korean names for ingredients and dishes. One section of the book provides a detailed look at the Korean pantry with helpful information on common ingredients used throughout the book. It also includes her favorite brands, storage, and gluten-free substitution. The difficulty level and allergens are also clearly labeled for each recipe.
What We're Trying: Spicy Crunchy Garlic Tofu (KKANPOONG TOFU)
It may be necessary to pick up a few ingredients from the store or place an order online for pick-up, but all the ingredients are readily available at most supermarkets. Prep involves mostly tossing, mixing, chopping and sauteing. 
Something new: This recipe is a great place to start if you're new to tofu. It's quick and easy to make, serves four, and is really tasty! 
Adding a WOW to your palate: The tofu cubes become crispy on the outside, and the sauce is an explosion of rich complex flavors. It's truly delicious! 
An easy method of cooking: You can prepare this recipe in a large nonstick skillet or wok.
Meet the Author
Joanne Lee Molinaro is a Korean American woman, born and raised in Chicago to parents who immigrated from North Korea. She is not a chef by profession but rather a lawyer who adopted a vegan lifestyle in 2016 and became a TikTok star with her unusual storytime videos. Joanne is on a mission to bring families together over food and to encourage you to open your palate to tastes outside your everyday experience.
Visit The Korean Vegan website, where Joanne shares recipes, videos, podcasts, and newsletters, as well as how you can join the Korean Vegan Meal Kollective, a community with a unique app. Also, you can follow her on all her social media accounts, including her very popular TikTok channel, @thekoreanvegan.