The Cookbook Nook: Dorie's Cookies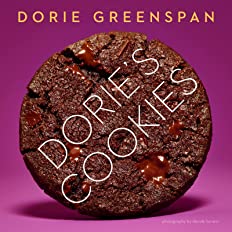 This cookbook wowed us with: Craveable photos! 
If you have never heard of Dorie Greenspan or have never picked up one of her numerous cookbooks, you are in for a treat. Dorie's Cookies is a door stopper with 500 pages and 300+ recipes. Every recipe has an accompanying photo; we found the images really made a difference in our desire to make it. Our temptation to taste each recipe was sparked by seeing how delicious the finished treats looked in all their glory! We know you'll agree, especially when flipping through the book - you'll have tons of "I want to try this recipe" sticky note tabs like we did.
Every recipe is clearly written with detailed instructions, carefully guiding you through the entire recipe process from beginning to end. Side note: Dorie's World Peace Cookies recipe is one of many mouthwatering ones in this book, and they are delicious. 
What We're Trying: Classic Jammers
This recipe is challenging but worth it - trust us! These cookies make a wonderful holiday gift, look stunning on a cookie tray, and are the most scrumptious cookies you will ever taste. Here are a few other tasty details about them:
Each cookie has three components: a perfect shortbread base, a spoonful of jam in the center, and a ring of streusel around the jam.
The recipe makes 30 cookies so there are plenty to share, making your family and friends happy, happy, happy!
Storage: Baked cookies keep for two days at room temperature when covered and can be frozen for up to two months. Also, they can be assembled, wrapped airtight, frozen for up to two months, and baked straight from the freezer.
Meet the Author
Dorie Greenspan is an American cookbook author. She has written 14 cookbooks over the past 30 years and has been the recipient of The James Beard Foundation Award five times.  The New York Times called her a "culinary guru" in 2004. Dorie worked closely with Julia Child and speaks of their friendship frequently in interviews. She lives in three places: New York City, Westbrook, CT, and Paris, France! Visit Dorie's website, where she generously shares specific recipes under the categories of, Every Day Dorie, Chocolate, Gluten-Free, Cookies, and Savory. And, if you love food + are curious about the world, you can also subscribe to the xoxoDorie Newsletter there!