The Cookbook Nook: Delectable: Sweet and Savory Baking by Claudia Fleming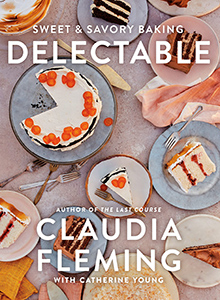 This cookbook wowed us with: A mix of classic favorite recipes with a dose of culinary history.
Get ready to fall in love with Claudia Fleming's Delectable: Sweet and Savory Baking cookbook! With more than 140 recipes from the home kitchen of one of our favorite legendary pastry chefs, we couldn't wait to dive into this cookbook. We were pleasantly surprised to find some savory recipes were included as well, making it a treat for those who love sweets and those who want to try something savory. Claudia's recipes are elegant but not fussy. Although some recipes are complicated, most are gorgeous and simple. She has a way of inspiring you to try a new recipe and gives you the confidence that it will be successful. If you can't tell, we love her.  And this cookbook is simply delectable.
What We're Trying: Apple and Raspberry Crisp 
A crisp is dead easy to make. It's nearly impossible to mess this up. You make the filling and top it with a crumble and bake. You can serve it warm or at room temperature, which makes it a great option for entertaining friends or family. It would also be great for a potluck gathering. We found this recipe to have the perfect amount of sweetness. 
Quick and delicious dessert: You can assemble this in advance and just pop it in the oven when guests arrive.
A versatile treat that lasts and lasts: The recipe for the oat crumble makes a double batch so you can freeze half and have it ready for the next crisp or use it as a topping on yogurt or ice cream. 
Delightful aromas: Your home will smell like delectable deliciousness as it bakes. 
Fun for everyone: Get the kids involved with mixing the crumble and assembling the crisp.
Meet the Author
Claudia Fleming is a legendary James Beard award-winning pastry chef, restaurateur, and author. Her first cookbook, The Last Course, has a cult following and was published over 20 years ago. The book has become a holy grail among pastry chefs, with original copies reselling online for more than $200 each. Her many fans are thrilled to finally have a new collection of recipes all about home baking. Each recipe was developed and tweaked in her home kitchen during her pandemic isolation. Fleming has appeared on Barefoot Contessa and Beat Bobby Flay and served as a judge on Chopped and Top Chef: Just Desserts. She lives in New York City and Long Island's North Fork. Discover more about the legendary chef Claudia Fleming and subscribe to her mailing list directly on her website at www.chefclaudiafleming.com. Keep yourself updated on her events, mouth-watering recipes, and additional content by following her on social media at @chefclaudiafleming.