The Cookbook Nook: 100 Techniques: Master A Lifetime Of Cooking Skills, From Basic To Bucket List by America's Test Kitchen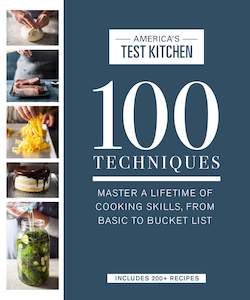 This cookbook wowed us with: Modern, practical, everyday techniques!
Have you ever found yourself struggling in the kitchen? Whether you're a seasoned home cook or a newbie still learning the basics, we've all been there. That's where America's Test Kitchen (ATK) comes in. With its top-rated television shows, bestselling cookbooks, and magazines, ATK has become a household name in the world of cooking. This latest cookbook by ATK, 100 Techniques: Master A Lifetime Of Cooking Skills, From Basic To Bucket List, offers essential techniques and 200 mouth-watering recipes perfect for aspiring and experienced cooks looking for a challenge!
One of the things we love about this cookbook is how it's divided into three primary parts. Part I, Essentials Every Home Cook Should Know, covers the basics that many of us take for granted. But the real fun starts in Part II, Techniques You Didn't Know You Couldn't Live Without. This section is a goldmine of culinary wisdom. And then there's Part III - The Bucket List, our favorite. It's full of recipes and techniques like making fresh pasta by hand, cooking a whole fish, or mastering the art of making caramel candies.
This cookbook is out of this world. The sections are well-organized and easy to navigate, and the tips and tricks are incredibly helpful. If you want to take your cooking skills to the next level, we recommend checking out this cookbook. Trust us, your taste buds will thank you.
What We're Trying: Cheese Soufflé (Because we're fancy!)
After much deliberation, we went straight to the Bucket List section of this cookbook and decided on the Cheese Soufflé. This decadent dish with French origins takes us back to the 1970s and early 1980s when the soufflé had a resurgence in popularity and was on our actual Bucket List. 
A big deal: this dish is Impressive with a capital "I," so impressive that we couldn't help but blog about it! Soon, you will be wowing your friends and family with your culinary skills.
Simple & fast: the recipe is super easy to prepare and, from start to finish, only took 45 minutes.
Good portions: the soufflé is substantial enough to be a main course, served with a green side salad.
An excuse to make it: you can make this recipe on May 18th - National Cheese Soufflé Day!
Meet the Author 
The authors of America's Test Kitchen include the work of over 50 professional cooks based in Boston, Massachusetts, who put ingredients, cookware, equipment, and recipes through rigorous testing to identify the very best methods and outcomes. They are a digital broadcast company that publishes award-winning cookbooks and magazines like Cook's Illustrated and Cook's Country magazines. Their shows, America's Test Kitchen TV and Cook's Country TV, are the longest-running culinary shows in the US. For more recipes, reviews, and articles, visit americastestkitchen.com or @americastestkitchen on social media.